11th Annual U.S. Open Taekwondo Hanmadang
Thursday, July 25 – Saturday, July 27, 2019
Broadmoor World Arena in Colorado Springs, Colorado
The U.S. Taekwondo Committee is proud to announce the 11th Annual U.S. Open Taekwondo Hanmadang, which will be held at the Broadmoor World Arena in Colorado Springs, Colorado, USA from July 25-27, 2019!

This Taekwondo tournament and festival will feature events for ALL students to compete in and watch including Archery, Board Breaking, Traditional and Creative Poomsae, Spinning Hook Kick, Jumping High Kick, various Power Breaking events, Para Taekwondo events and one of the nation's largest Demonstration Team competitions. Taekwondo students yellow belt and above from the U.S. and around the world can compete in multiple events alone or in teams. If you are testing for your yellow belt at the end of June, you can compete in this tournament!
Students register here: http://usopentkd.com/register-now/participants/participant-registration/
Students are required to have four red stars before they test for their Black Belt. By competing at the U.S. Open Taekwondo Hanmadang, students will earn one red star. Just as a reminder, this will be the LAST year the Hanmadang is held in Colorado Springs, Colorado, so take advantage of competing in this tournament while you can!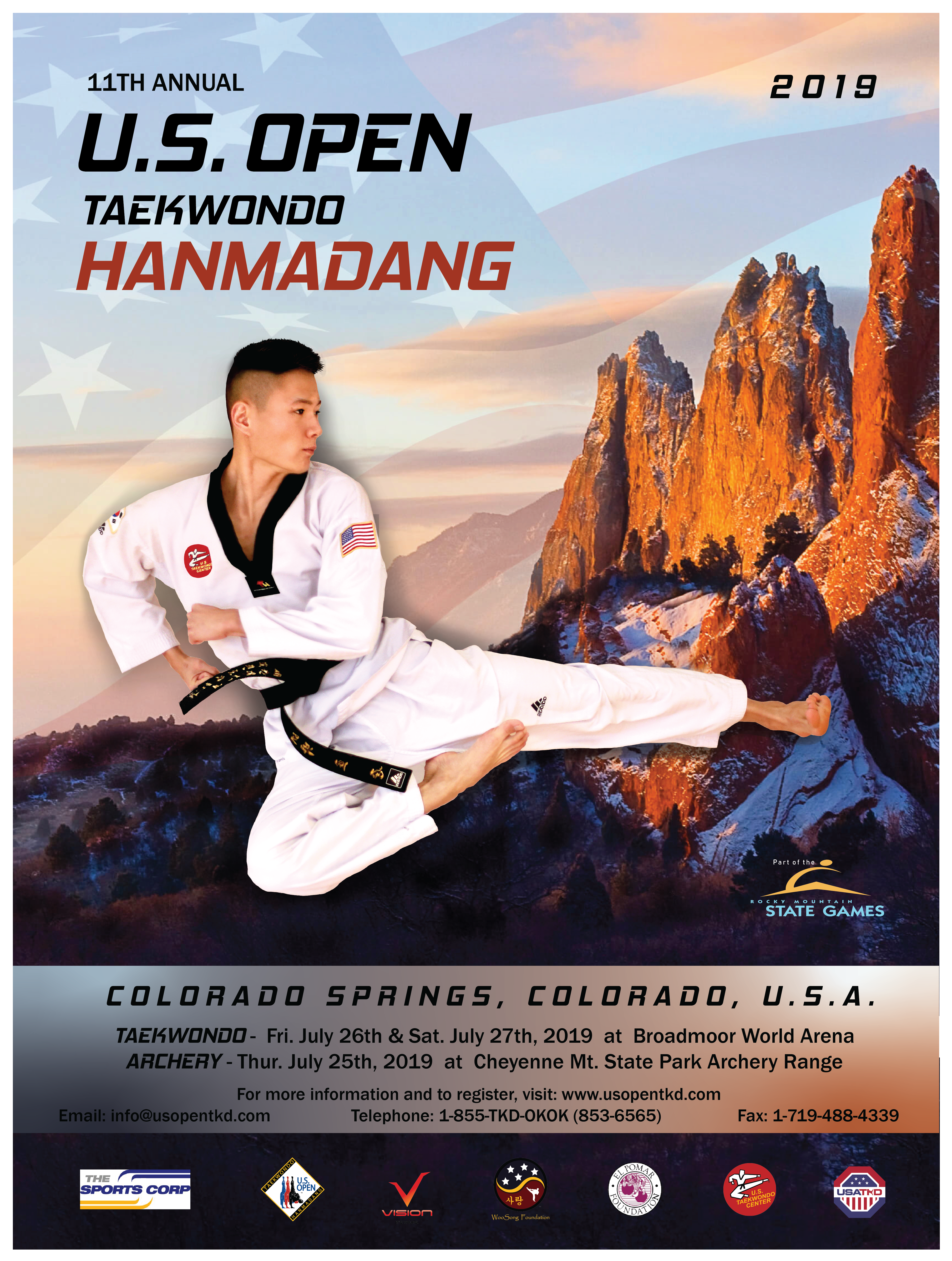 Practice Hanmadang
In order to help you prepare for the upcoming Taekwondo tournament, we are hosting a Practice Hanmadang at the Stetson Hills Dojang (5799 Stetson Hills Blvd.), Saturday, June 1, 2019 from 9:30am to 3pm for ALL students white belt and above. 
In order to participate in Practice Hanmadang as an athlete AND/OR volunteer, you must sign up online HERE: CLICK HERE TO SIGN UP
To see a FULL schedule of Practice Hanmadang, Prices for our Board Sale and Frequently Asked Questions, please open OUR FLYER HERE! The Practice Hanmadang allows students to practice for their event, perform in front of a live audience and get their questions answered about registering for the tournament.
Volunteers: If you are able to help volunteer, please also sign up at the link above. This Practice Hanmadang is also the perfect opportunity for all volunteers to learn what their role will be at Hanmadang and get their questions answered before the real tournament.
Purchase 1/4-inch and 3/4-inch wooden boards at your Dojang at a discounted rate through July 25, 2019!
1/4-inch Wood Boards
$2.99/board
$20/10 boards
$150/100 boards
3/4-inch Wood Boards
$4.99/board
$35/10 boards
$150/50 boards
Re-Breakable Board
$41.99/board (Save $14!) 
Buy your tickets for the 11th Annual U.S. Open Taekwondo Hanmadang at any of the 5 U.S. Taekwondo Center locations in advance to avoid all box office, online & processing fees. By purchasing your tickets at the Dojang, you can save $5+ per ticket! 
Friday, July 26, 2019 
(Special performances by national & international Taekwondo teams at 6pm) 
1 Ticket: $28 per person (3 and under is free) 
Saturday, July 27, 2019
1 Ticket: $18 per person (3 and under is free)